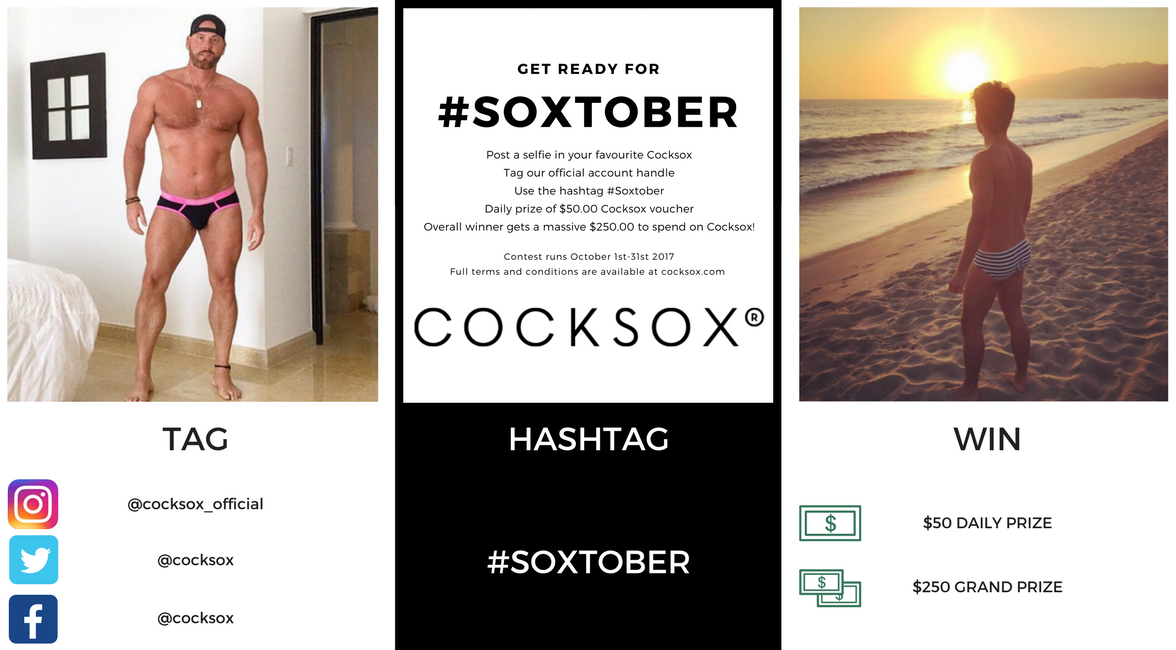 Love Cocksox? Love getting new undies? Then show the world in #Soxtober.
Post a selfie this month in your favourite Cocksox underwear or swimwear to Instagram, Twitter or Facebook, make sure you tag us, and use the hashtag #Soxtober to be in with a chance of winning Cocksox vouchers. There's a daily prize of $50, and at the end of the month the overall winner gets a massive $250 to spend on new Cocksox!
But don't forget that tag and hashtag, include them both and you're automatically entered into the contest - leave them out and we just won't see your shot. Share your pics with friends as well to let them know you want to win, we'll be checking likes and comments when we choose our winners.
Need some winning selfie tips?
Check out our Pinterest board of fanpics to see how Cocksox fans like to show the love.
Get creative! Make use of your apps to add stickers, slogans or even a video loop to make your post stand out.
We're certainly partial to public displays of Cocksox affection, showing your 'sox in the great outdoors will get you noticed.
Keep it clean, we love a tease but explicit images will not be considered for the contest - full stop.
And a few boring but very important t&c's:-
Make sure your social profile is set to public, we can't see your pics otherwise!
Submit as many pics as you wish, the daily prize will be chosen from all submissions made during the month, so there's also no need to keep resubmitting the same pic every day.
Submitted images must include the hashtag #Soxtober to be considered, and the correct Cocksox social media profile must also be tagged in the submission.
Winners will be contacted via the social media platform on which the original submission was made, so make sure you know how to access your messages on these channels.
The contest closes October 31st 2017, submissions made after this date will not be considered.
The contest is not sponsored, endorsed or administered by, or associated with Instagram, Twitter or Facebook.
By entering the contest you acknowledge and agree that Cocksox may reproduce the submitted content in promotional material related to the contest via social media and email.
We look forward to seeing your #Soxtober pics!
Back to blog