Supporting Manhood™
Everyone needs a support crew, and for the men of the world, Cocksox is it. Cocksox is men's underwear and swimwear designed specifically for the male anatomy. Support, comfort and enhancement are the fundamentals of every garment we make. Cocksox is all about supporting manhood by supporting YOUR manhood.

So who wears Cocksox? Men of all shapes and sizes from all over the world with one thing in common; they love to feel great. The support of the pouch is fantastic for walkers, runners, athletes, cyclists, laborers, and highly active men. And the SUPPLEX® fabric, that wicks away moisture to keep you feeling fresh, is great for situations where comfort is key; for truckers, pilots, military personnel, first responders, office and hospitality workers.

The ultimate support of the Cocksox design in combination with the incredible fabrics has to be worn to be believed. We've even heard from soldiers in Afghanistan about how amazing Cocksox are when on patrol (thank you for your service guys!) Cocksox are seriously the ultimate in support and comfort for men.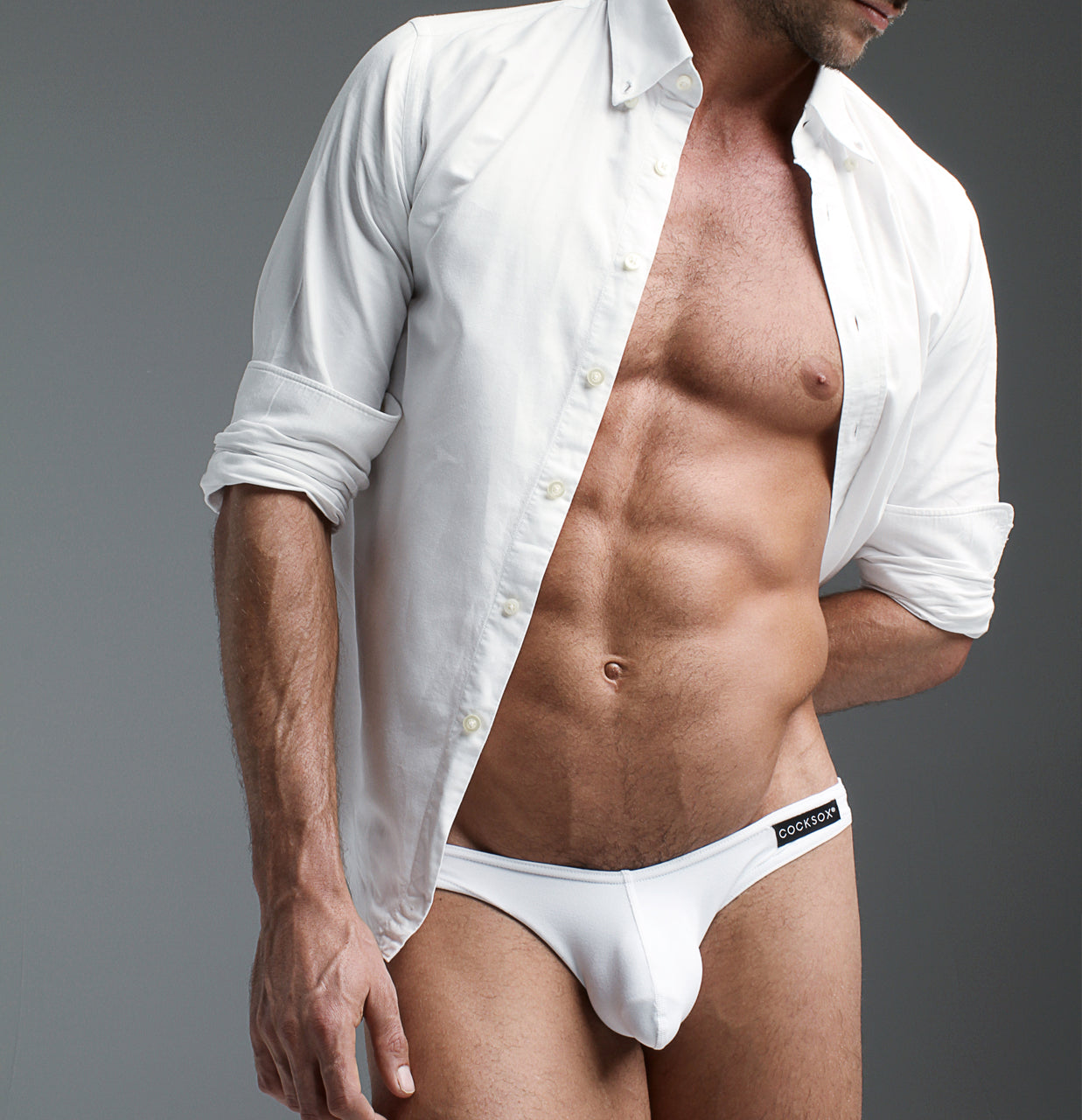 Ultimate Support and Comfort
The ultimate support offered by Cocksox products is the result of years of design and testing of pouch shapes to accommodate a man's manhood, in combination with the incredible properties of the high tech fabrics they're made from.

Our supportive underwear is made from a technologically advanced SUPPLEX® fabric. Developed originally as an activewear fabric, SUPPLEX® is soft, breathable, long lasting, hypo-allergenic, holds its shape well after repeated wash cycles and contains LYCRA®, making it incredibly comfortable. Cocksox underwear ranges from long johns, boxers and briefs through to super-sexy mesh thongs, and everything in between!

Cocksox swimwear is made from the highest quality LYCRA® with excellent chlorine resistance, UV protection (varies according to garment) in a variety of awesome styles and prints. If you're a 'seven-foot-waves-on-six-foot-board' kinda guy, we've got swimwear styles for high activity, but if you're more of a 'cocktail-in-the-jacuzzi' kinda guy, we've got some sweet swimwear styles for chilling out too.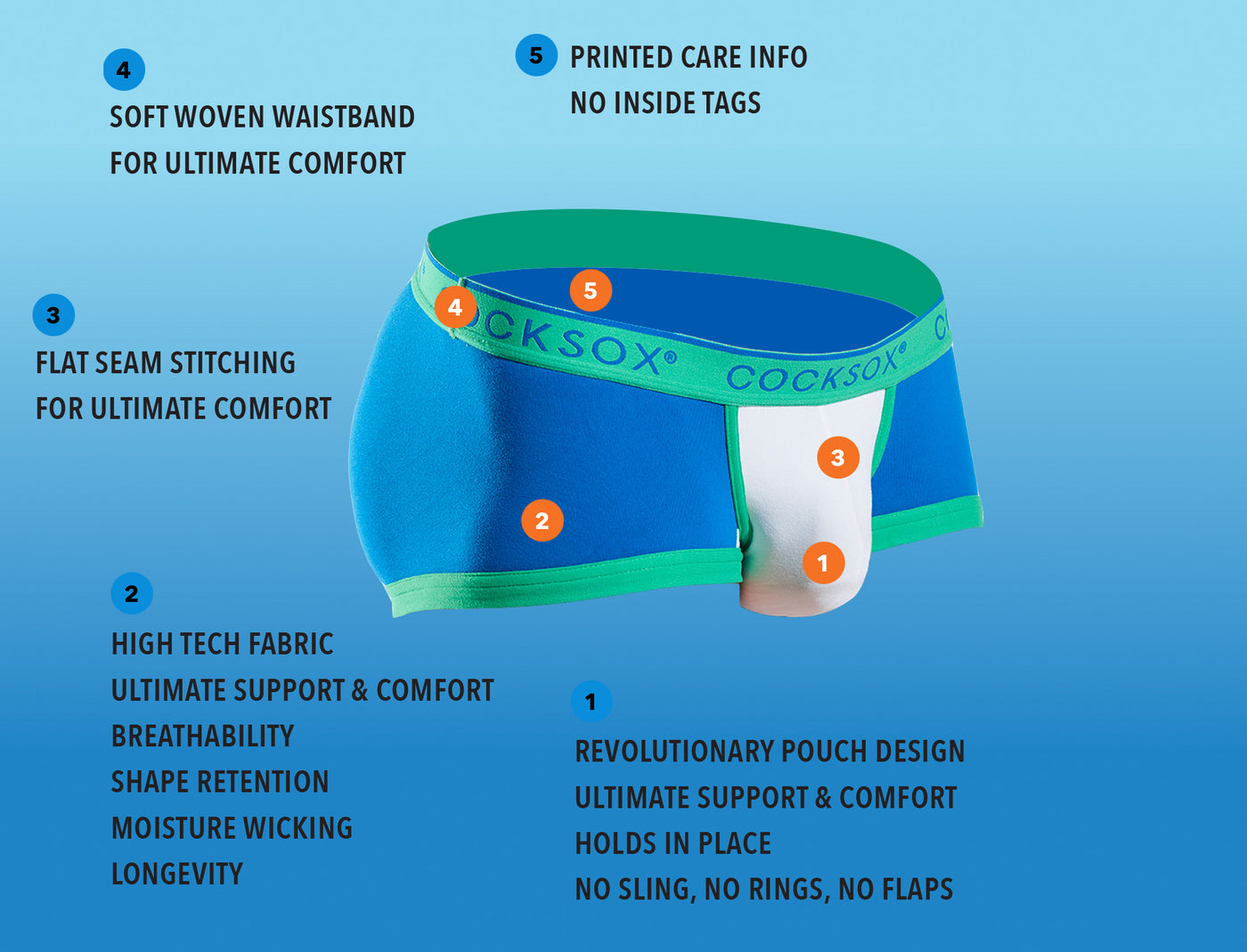 The Cocksox Story
In 2006, Nadiah Kanawaty noticed that the range of underwear styles on offer for men was nowhere near as diverse as it was for women. Drawing on her years of experience working in fashion and apparel, Nadiah came up with a pouch-style brief design that would provide support, were incredibly comfortable and created an enhanced profile too. But what to call them? Her husband, Nigel, came up with the name Cocksox. It was bold, cheeky and unforgettable. Perfect!

In March 2006 they released the first Cocksox® 'no rings, no slings' enhancing briefs, and triggered a revolution in men's underwear.

Not long after came swimwear briefs, then more underwear styles, then more swimwear styles, custom prints, unique fabrics, wild colors and wild designs.

Nadiah's siblings Oliver and Hannah Kanawaty are General Manager and Sales Director respectively, it's truly a family business.

Cocksox now sell over 60 styles of supportive underwear and swimwear to men from every walk of life in every corner of the globe. Most cool.