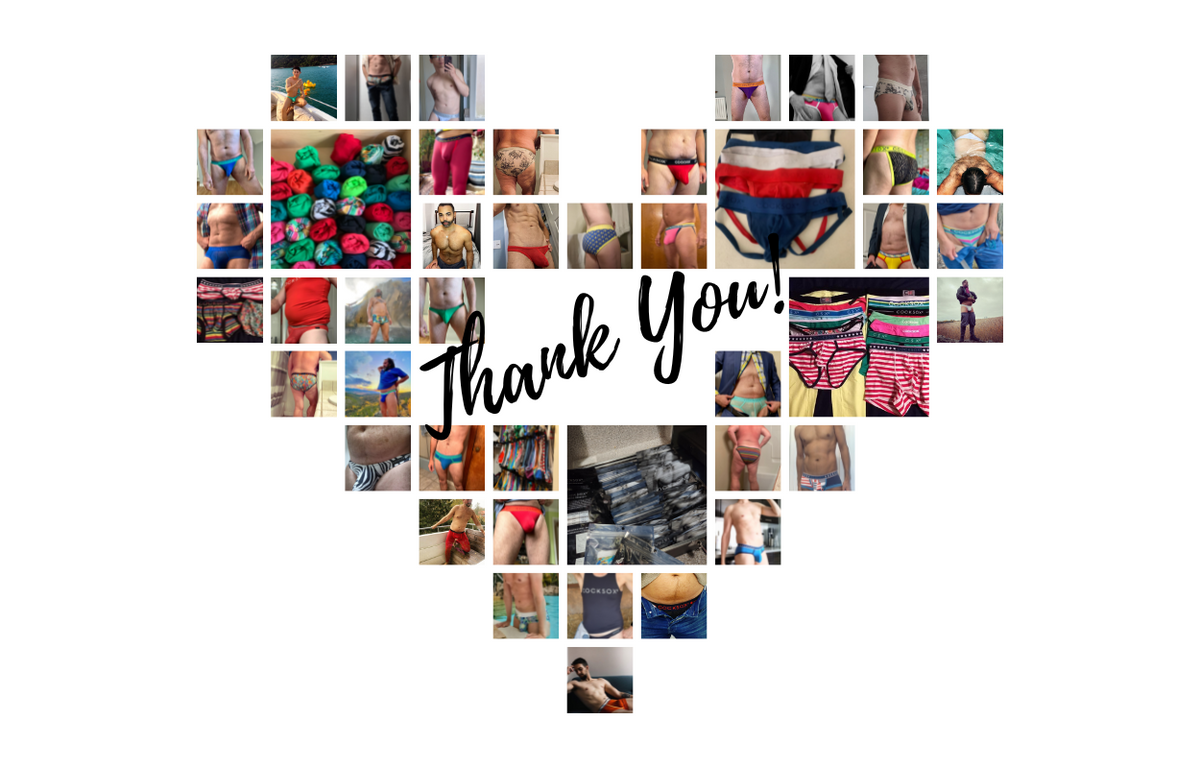 We sincerely thank all who entered #MySoxtober 2022
This year we asked you to share how and when Cocksox had made your day. Hearing how Cocksox supports you in so many different ways was amazing. We saw you wearing your 'sox at home, in the workplace, and out and about.
There we some challenges to overcome this year - searches of the hashtag #MySoxtober were suppressed on social channels, and the official Cocksox Instagram account was briefly suspended in late October. Despite these hurdles, Cocksox fans worldwide showed their continuing dedication and kept their entries pouring in.
With so many great entries over the four weeks of #MySoxtober it was hard enough to pick daily winners, let alone the overall winning entry. Congratulations to our 28 daily prize winners who each pocketed a $50 Cocksox gift card.
Now it's time to name the winner of #MySoxtober 2022!
Congratulations Andy, hearing how our undies had made a positive contribution to your hike stood out for us. And we may also have been just a little bit jealous of a trip with such amazing scenery! We've topped up your prize with an additional $200 gift card.
When we got in touch with Andy to share the news, he told us a little more about how Cocksox underwear had become the ideal travel companion.
"Ever since the Cocksox team worked with me to help find the right gear for my hikes and workouts, I've been using your products for support and comfort in travelling to fantastic locations here in the US, as well as in Europe, South America and Asia.
Cocksox have become an essential part of my hiking gear - the combination of precise support and incredible style and materials has been revolutionary for me."
As well as enjoying the opportunity to share his own story, Andy is also grateful for the stories shared by his fellow Cocksox fans around the world.
"It's also been really fun participating in the #MySoxtober competition. I've been able to hear the wonderful stories and benefits that others have found from your products. It's allowed me to share pics of the great scenery and vistas from my hiking journeys, and to let others know how Cocksox have been a big part of getting there."
You can see the best of
#MySoxtober
2022 on our
dedicated Instagram page
. Thanks again for your entries, and we look forward to doing it all again for
#MySoxtober
2023!
ICYMI
It's been a busy time here at Cocksox. As well as #MySoxtober we have recently released two new underwear collections.
Italian Mesh
The latest Cocksox Mesh Collection colours feature our most luxurious fabric yet. The finest quality Italian mesh gives an inviting, flattering fit over the contours of the body.
An innovative two-way stretch mesh pattern design delivers a new level of high performance. While retaining its sensuous feel and sultry sex appeal, the unique pattern of this new mesh makes the fabric stronger and more durable than ever before.
Elegance
Underwear that elevates to a life of luxury. 1930's inspired, yet timeless with a warm palette of heritage tones.
Pairing the elegant aesthetic of the period with the luxurious comfort of our signature Supplex/Lycra fabric blend, Elegance Collection underwear takes you to a golden age of refined grandeur.
Back to blog