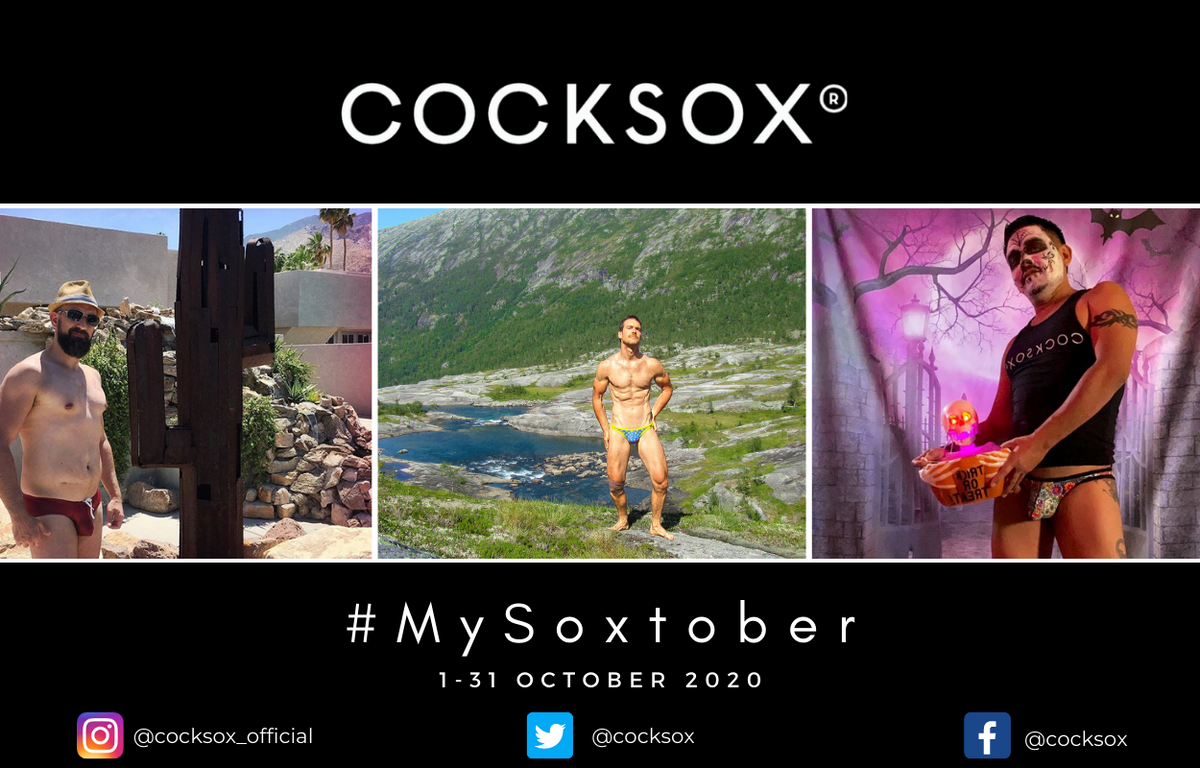 Share your Cocksox story
Over the past three years we've seen incredible selfies and videos from Cocksox fans all over the world as part of our annual #Soxtober contest. This year more than ever, it feels like we could all do with a bit of a break from much of what is going on around us, and we hope that the newly refreshed #MySoxtober can give 2020 a bit of an uplift.
Along with a new name, we've given the fourth edition of the contest a new twist. We want to see and hear why you love your pairs, and we're giving you new ways to enter the game and win new Cocksox. There's a daily prize of $50.00 USD to spend at the Cocksox online store, and a massive $250.00 USD for the Grand Prize winner.
How to enter #MySoxtober
#MySoxtober is more than just a selfie contest, the theme this year is all about sharing your Cocksox story. Use pictures and video to show and tell your stories and memories of a time when Cocksox made a difference to your day.
Of course, a great selfie is still an awesome way to show your favourite underwear and swimwear, and we've loved the incredibly creative entries we've seen over the previous years. And it wouldn't be the 2020 edition without working from home playing a part too.
Post your #MySoxtober entries from now until October 31st, just follow these simple steps to enter the contest:-
Post your selfie, picture, video, story or anything else about your Cocksox to Instagram, Twitter or Facebook
Make sure you tag our official profile (see links above)
Include the hashtag #MySoxtober in the caption of your post
If you're a little camera shy, don't worry - you don't need to include yourself in the picture! A great shot of your Cocksox collection is a cool way to show the world what Cocksox means to you. 
We also accept anonymous entries if you don't want your entry to show on your personal profile. Just send it to us in a DM with a note to say you are happy for us to submit your entry into the contest.
#MySoxtober prizes
Treat yourself or a special man in your life to the uplifting comfort of new Cocksox. Each day in October we're handing out a daily prize of a $50.00 USD gift card to spend at the Cocksox online store. At the end of the month our team will pick out an overall #MySoxtober winner from the 31 daily prize winning entries, and top up their win with another $200.00 USD.
And just to be clear, #MySoxtober is NOT a popularity contest. It doesn't matter how many friends and followers you have, or how many likes, shares and comments you get on your posts - or how many we get if we feature you in one of our own posts.
All winners are chosen by our team (and a few special friends) and there are many ways that you can catch our eye.
#MySoxtober is about you and your Cocksox, so do things your way. We can't wait to see what Cocksox means to you.
Terms and conditions
You may submit as many entries as you wish, the daily prize will be chosen from all submissions made during the contest. Therefore you do not need to resubmit the same entry, an entry received on October 1st is still eligible for a daily prize on October 31st.
The contest runs from October 1st to 31st 2020. Subject to the rules of the contest, one daily winner will be selected each day during the contest, receiving a prize of a $50.00 USD gift card. The overall winner will receive an additional $200.00 USD gift card. Gift cards are redeemable against the purchase of products on the official Cocksox online store only, and there is no cash alternative.
Submitted content must include the hashtag

 

#MySoxtober

 

to be considered, and the correct Cocksox social media profile handle must also be tagged in the submission.
Cocksox reserves the right to disqualify and remove associated tags from any images deemed to be explicit or inappropriate.
Winners will be contacted via the social media platform on which the original submission was made, so make sure you know how to access your direct messages on these channels.
The contest closes on October 31st 2020, submissions made after this date will not be considered.
The contest is not sponsored, endorsed or administered by, or associated with Instagram, Twitter or Facebook.
By entering the contest you are considered to have read, acknowledged and accepted that Cocksox may reproduce the submitted content in promotional material related to the contest and future versions via social media and email, without payment or any other consideration. This includes the right for Cocksox to include the account profile name or handle, but does not extend to the use of any personal identifiable information such as your full name or location. To claim a prize you will be required to provide your full name, email address and country and state/region of residence via direct/private messaging correspondence, but none of this information will be displayed publicly.
By entering the contest you are considered to have read, acknowledged and accepted the terms and conditions of this contest as stated herein.
We look forward to seeing your #MySoxtober entries!
Back to blog