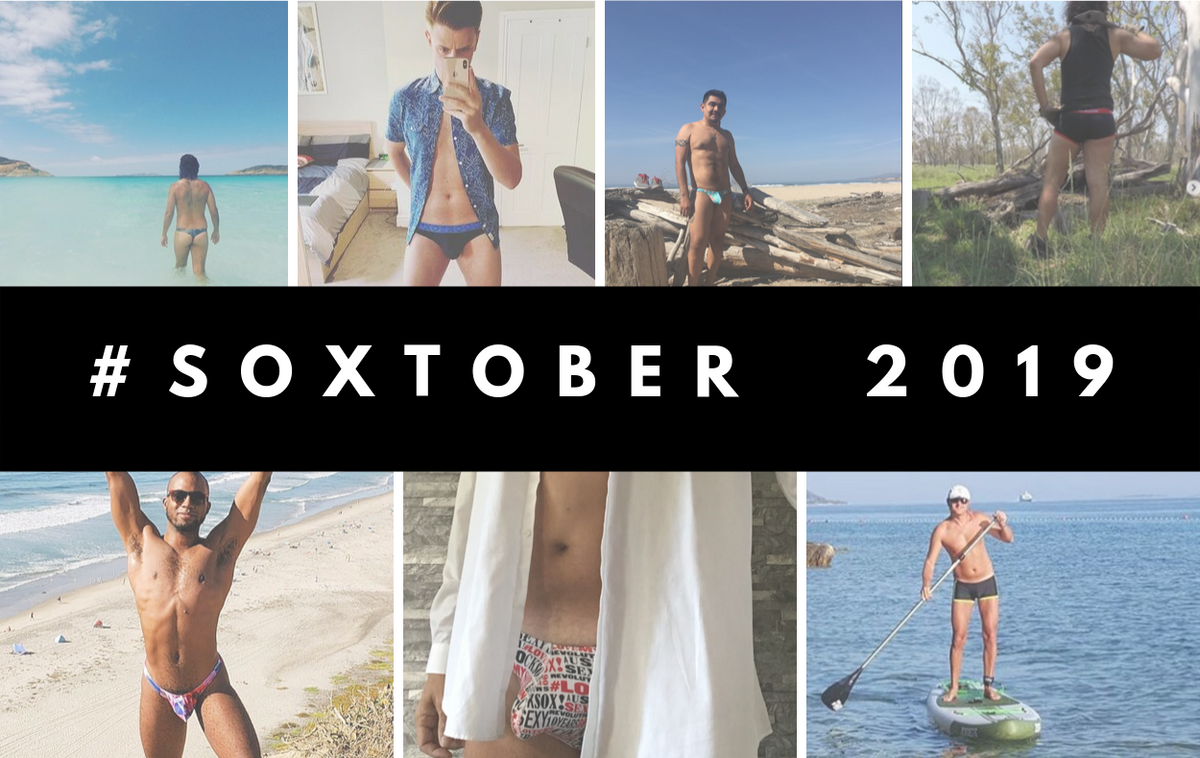 Submit your selfies to win!
What would you do to get some new Cocksox for free? This month, all you need to do is enter our annual #Soxtober selfie contest to be in the running to win Cocksox gift cards.
Post your Cocksox selfies from now until October 31st, tag our social media channels and include the hashtag #Soxtober, and you could win the $50 daily prize - and even the $250 grand prize at the end of the month.
Where do I post?
Post your entry on Instagram or Twitter - we are @cocksox_official on Instagram and @cocksox on Twitter.
How it works
Post a selfie in your favourite Cocksox underwear or swimwear
Tag the official Cocksox account
Include the hashtag #Soxtober
That's all you need to do to enter the contest!
How can I win?
Each day during October the Cocksox team will choose a daily winner to receive a $50 voucher to spend on new gear, and at the end of the month we'll pick an overall winner who gets a massive $250!
To give your #Soxtober entry the best chance of winning, make sure you get creative. Use your apps, filters and stickers to bring some fun, and we ALWAYS look fondly on a public display of Cocksox love.
For tips and inspiration for your entry, check out the #Soxtober 2018 Pinterest board for a selection of the best pics from last year's contest.
And remember, it's the Cocksox team who pick the winners so don't fret about your follower count or if your pic doesn't go viral - ours is the only "like" that counts.
Terms and conditions
Make sure your social profile is set to public, we can't see your pics otherwise!
Submit as many pics as you wish, the daily prize will be chosen from all submissions made during the month, so there's also no need to keep resubmitting the same pic every day.
The contest runs from October 1st to 31st 2019. Subject to the rules of the contest, one daily winner will be selected each day during the contest, receiving a prize of a $50.00 USD gift card. The overall winner will receive a $250.00 USD gift card. Gift cards are redeemable against the purchase of products on the official Cocksox online store only, and there is no cash alternative.
Submitted images must include the hashtag #Soxtober to be considered, and the correct Cocksox social media profile handle must also be tagged in the submission.
Cocksox reserves the right to disqualify and remove associated tags from any images deemed to be explicit or inappropriate.
Winners will be contacted via the social media platform on which the original submission was made, so make sure you know how to access your direct messages on these channels.
The contest closes on October 31st 2019, submissions made after this date will not be considered.
The contest is not sponsored, endorsed or administered by, or associated with Instagram or Twitter.
By entering the contest you are considered to have read, acknowledged and accepted that Cocksox may reproduce the submitted content in promotional material related to the contest and future versions via social media and email, without payment or any other consideration. This includes the right for Cocksox to include the account profile name or handle, but does not extend to the use of any personal identifiable information such as your full name or location. To claim a prize you will be required to provide your full name, email address and country and state/region or residence via direct/private messaging correspondence, but none of this information will be displayed publicly.
By entering the contest you are considered to have read, acknowledged and accepted the terms and conditions of this contest as stated herein.
We look forward to seeing your #Soxtober selfies!
Back to blog