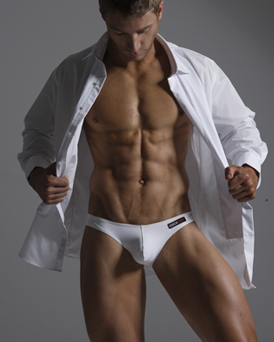 FAQ
What The F*&k are Cocksox®?
It seemed unfair to us that the ladies had all the fun in the underwear department so we designed sexy, stylish and comfortable underwear for men to wear every day.

The main feature of Cocksox® underwear is the specially designed pouch that lifts and supports your 'crown jewels' to give you either an enhanced profile, a more comfortable ride or both depending on the pouch you choose (more about that below).
back to top
Who wears Cocksox®?
100% of Cocksox® wearers are men (big surprise I know).

Cocksox® wearers cover the whole range of men and male pursuits from all over the world, including IT professionals, doctors, lawyers, construction workers, performers, pilots, equestrians, musicians, scientists, dentists, artists not to mention athletes.

In fact, athletes wearing Cocksox® have an additional advantage. Professional swimmers, tri-athletes, cyclists, gymnasts, water polo players, surfers, dancers and body builders have raved to us about the incredible comfort and support Cocksox® provide.

The combination of superior fabric technology and unique design make Cocksox® exceptionally comfortable for extended periods of high activity (where and what that activity is we'll leave to you).
back to top
What are Cocksox® made of?
Most Cocksox® underwear is made from a fabric called Supplex®. Supplex® is a highly breathable, very soft, fast drying, colorfast, synthetic fabric with high wicking properties (meaning it carries moisture away from your body). It is an extremely high tech fabric that's great to wear and will last you a very long time.

The leopard print Cocksox® are made from super soft cotton Lycra which is very comfortable and long lasting. And the sexiest Cocksox® underwear are made from a mesh fabric that is super soft, light, strong, very breathable and VERY revealing!

Cocksox® swimwear are made from super comfortable Lycra®, are colorfast, stretchy and silky to the touch. Cocksox® Lycra® is also highly chlorine resistant and has a UPF rating of 50+ so they will stand a lot of time in the sun, surf and pool!

In the CX Active range we use a very soft, fast drying, breathable ribbed cotton Lycra that is incredibly comfortable to wear. The ribbed cotton Lycra forms to your body without feeling tight or restrictive and is perfect for being highly active or just dreaming about it!
back to top
What's the difference between Original and Snug pouches?
This is a question we get asked a lot so here's the bottom line.

Cocksox® Original pouch is a bit larger and noticeably more 'enhancing' than the Cocksox® Snug pouch. The Snug pouch is not quite as 'enhancing' but offers you the same amount of support and comfort as the Original. (You'll find the Snug pouch very similar to wearing regular briefs but more comfortable and sexy)

So, if you need more room or want to be on show, Original pouch is for you.

If you want sexy support without the neighbours knowing, Snug pouch is the way to go!

More recently, we added the Contour pouch, which holds your boys closer than the snug pouch, giving a contour profile. The contour gives the ultimate comfort and support during periods of high activity.

The Cocksox natural pouch has the feel and comfort of the Cocksox original pouch, but sits in a lower, more natural position.

Why so many pouches? Well, each man is individual, and we are always looking at ways to make your experience of Cocksox even better. We also like to offer choice depending on activity. For example, a professional cyclist might wear the snug pouch thong for exercising, but may chill out in a natural pouch long john.
back to top
Are there any internal supports or weird stuff inside Cocksox®?
No, there are no little surprises inside the Cocksox® underwear or swimwear. As we like to say, NO RINGS, NO SLINGS! The enhanced profile of that comes with wearing Cocksox® is purely the result of the unique pouch design and the fabrics they are made from
back to top
Is there a special way to put on Cocksox®?
Nope! If you've put on underwear before you know everything you need to know about wearing Cocksox®. Some people like to have a little jiggle once they're on to set everything in place but after that you're good to go!
back to top
Great! So how can I get some?
Go to the Store page, click on the product you want. Choose Colour, Pouch, Size and Quantity on the right side of the page and hit ADD TO CART!

On the shopping cart page you enter your billing/shipping details and then either CONTINUE SHOPPING or CHECKOUT. It's that easy!

The amount of time it takes for your Cocksox® to arrive will depend on the type of shipping you selected and where you are in the world. (Usually about 7 - 12 days, faster by express mail or courier).
back to top
So that's it? That's all you can tell me?
Far from it! We're happy to tell you anything you need to know about Cocksox®, all you have to do is ask! Got a question about styles, colours, sponsorship or just not sure who to leave your money to in your will, send me an email and we'll be happy to help.

info@cocksox.com

Enjoy your Cocksox®


Team Cocksox®

Cocksox® is a trademark of Oz Factor Pty Ltd A.B.N. 23 117 187 434
Postal Address: PO BOX 110 Summer Hill NSW 2130
Phone/Fax +61(0)2 9716 5994
back to top